PURELL® Advanced Green Certified Instant Hand Sanitizer Foam 1200 mL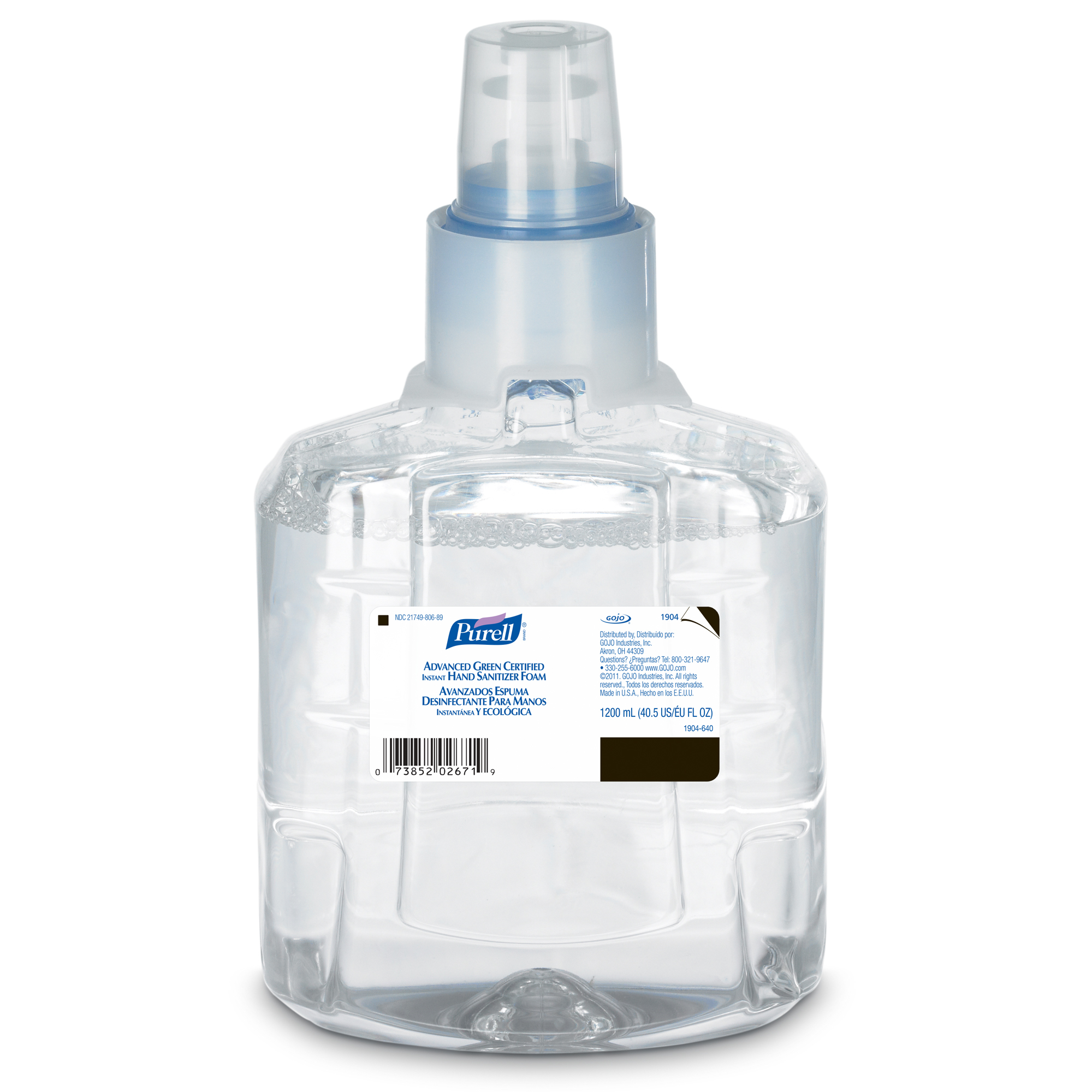 Color:

Clear

Dispenser:

LTX-12

Soap/Lotion Size:

1200 mL

Sustainability:

Green Certified
This fragrance free product is EcoLogo Certified and USDA Biobased Certified. PURELL Advanced Hand Sanitizer exceeds FDA Healthcare Personnel Handwash requirements with just 1.1 mL dispense of product. Since it outperforms other sanitizers ounce-for-ounce, you're getting more germ-fighting power with every refill. It's formulated to be gentle on skin with four conditioners and is clinically proven to maintain skin health. The PURELL product is free of harsh preservatives and does not contain dyes, triclosan, parabens or phthalates to irritate skin.
PURELL Advanced Hand Sanitizer Foam works with LTX Touch-Free Dispensers. With millions of units installed, across billions of uses, LTX dispensers are durable and reliable. When you run out of soap, getting a refill is fast and easy.
Case Pack Includes: 2 - 1200 mL PURELL Advanced Hand Sanitizer Foam, LTX-12 1200 mL Refill, Clear. Each 1200 mL refill holds up to 1,330 uses. Compatible with LTX-12 Dispensers. (Dispensers sold separately.)
GOJO Industries, a purpose-driven Family Enterprise, is committed to use the best science available to make the world a better place. GOJO invented the first commercial soap dispenser in 1952. We are the leading US manufacturer of hand soaps and dispensers for businesses. Our team partners with our customers to make maintaining restrooms easier and handwashing more effective and gentler on the skin.
1200 mL Refill for PURELL® LTX-12 Dispenser
No. 1 hand sanitizer most used by hospitals and proven to kill 99.99 percent of most common germs that may cause illness without damaging skin – even after repeated uses
Works with LTX Touch-Free Dispensers to help eliminate germs on hands.
With millions of units installed, across billions of uses, LTX dispensers are proven durable and guaranteed reliable
Case Pack Includes: 2 - 1200 mL PURELL 1200 mL Advanced Green Certified Instant Hand Sanitizer Foam refill. Each holds up to 1330 uses.
Compatible with LTX-12 Dispensers. (Sold separately.)