Purell Sanitizing Wipes 6/175/Case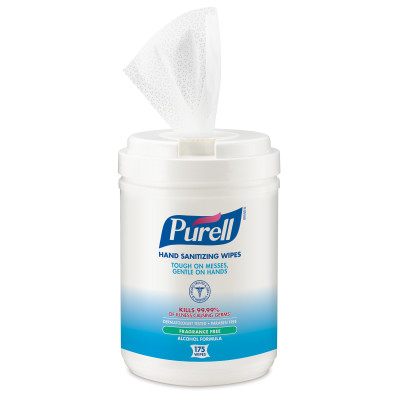 Color:

White

Fragrance:

Alcohol

pH:

6.0 - 9.0
Help staff and visitors eliminate germs on their hands in any setting from doctor's offices to reception areas to call centers and breakrooms. PURELL Hand Sanitizing Wipes Alcohol Formula are our most effective wipes for killing germs and cleaning hands.
PURELL hand sanitizer is the No. 1 brand most used by hospitals, and it is preferred by healthcare workers. These wipes are proven to kill 99.99 percent of most common germs that can cause illness, without damaging skin.
These non-linting wipes are soft textured and durable to gently clean light soils and dirt from hands. Plus, they are formulated to be gentle on skin, keeping hands feeling soft, even after many uses. The alcohol-based formulation kills germs fast and evaporates quickly, so germs don't become resistant. These hand sanitizing wipes are fragrance and dye free. They are FDA food code compliant. Place the versatile 175-count canisters on counters, tables or mount to the wall with the optional bracket (9014-01) that is sold separately. 80 percent of people surveyed said seeing PURELL products left them with a positive overall impression of the business.
Case includes: 6 - 175-Count Canisters of PURELL Hand Sanitizing Wipes, Alcohol Formula.
GOJO Industries, a purpose-driven Family Enterprise, invented PURELL 30 years ago. Our team is committed to use the best science available to make the world a better place.
Show you care about well-being in any setting from doctor's offices to reception areas to call centers and breakrooms
Place PURELL hand sanitizer and wipes at desks and in common areas as part of comprehensive hand hygiene program
Ideal for offices, reception areas, call centers, breakrooms and kitchens. In a survey, 80 percent of people have a more positive impression when PURELL products are available.