Purell® Professional Surface Disinfectant 32 fl oz (6 per case)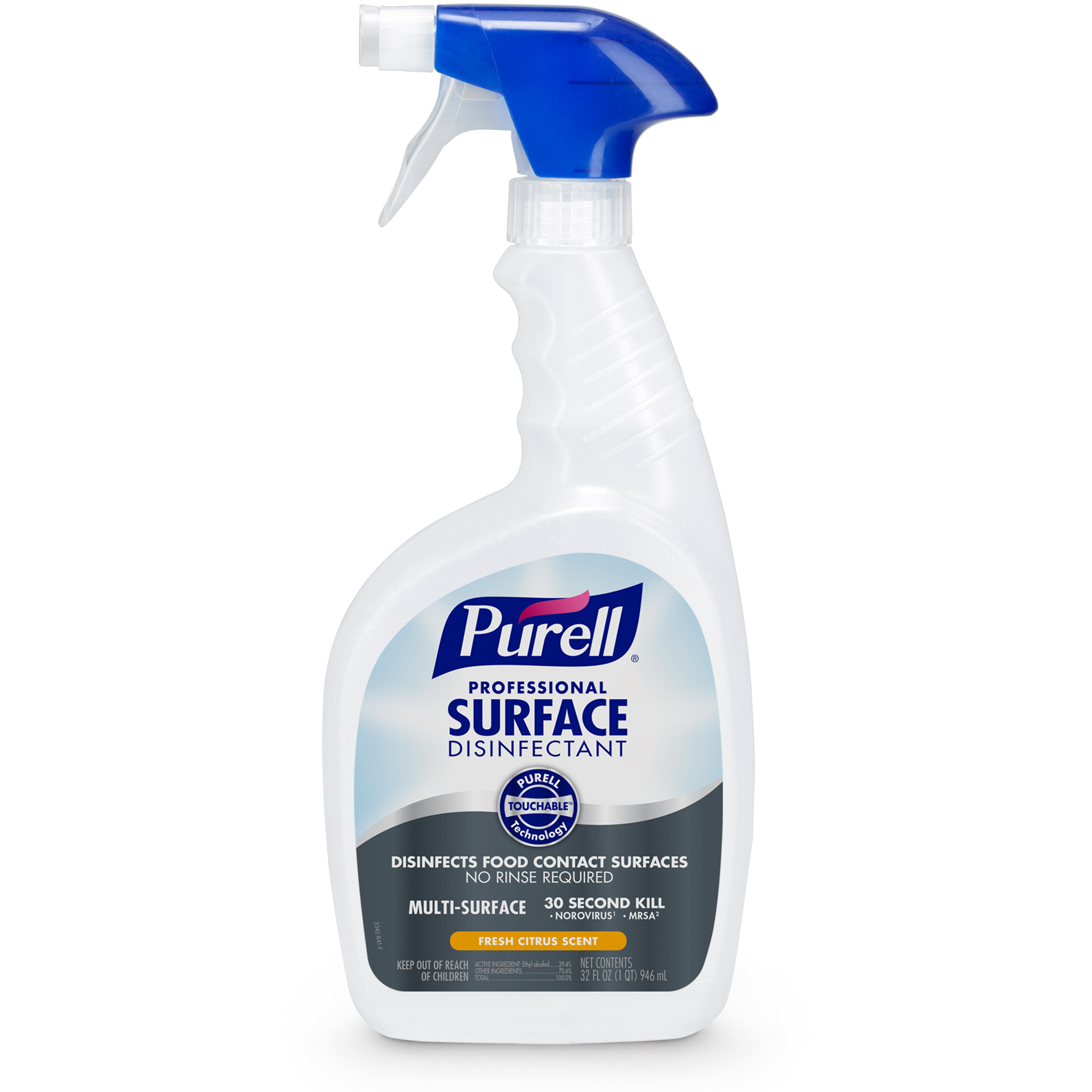 Color:

Clear

Contact Time:

1 Minute

Soap/Lotion Size:

32 fl oz
This Purell Surface Spray is an one-step disinfectant and cleaner with a fresh citrus scent. It's an effective, germ-fighting solution for your facility and is safe in foodservice areas like counters, tables and more! This revolutionary sanitizer is formulated to kill 99.99% of germs on surfaces, including 30-second germ kill of Norovirus, E. Coli, Salmonella and Listeria. While its kill times are similar to that of bleach, the formula is both bleach and fragrance free and won't release harsh chemical fumes. For added peace of mind, it also features the lowest allowable EPA toxicity rating, meaning no PPE needed.

Coming in a capped bottle with an included spray trigger, this broad-spectrum sanitizer is convenient and extremely easy to use. It's NSF D2 certified, eliminating the need to rinse or wipe down tables and counters after cleaning. Plus, no handwashing is required once you or your employees are finished using it. Proven effective across most hard and soft surfaces such as plastic, stainless steel, laminate, upholstery, and vinyl, this sanitizer spray is a one-step solution to your cleaning needs.
Kills Norovirus and MRSA in 30 seconds
Kills 99.9% of germs on surfaces, including the cold & flu virus
No rinse required on food contact surfaces
Proven effective across most hard and soft surfaces
Kills Coronavirus (COVID-19)* and Hepatitis A in 60 seconds
Awarded the U.S. EPA Design for the Environment certification (DfE)
Sealed & capped bottles with triggers included
Check out the Purell Surface Spray Disinfectant Literature
Here
!