TASKI® swingo® 150E AS NA, 1 ea, , 1/CT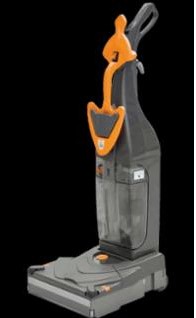 The functional design of the TASKI swingo 150 E machine is similar to conventional upright-vacs; the machine requires limited training and is simple to use. The preparation time for cleaning is less than 60 seconds. With a light weight of 24-lbs (11-kg) in total and only 3-lbs (1-kg) handle weight with a full tank, the machine can be easily pulled in any direction.
The new gravity fed auto scrubber automatically powers off when the tank is full, preventing moisture from contacting the vacuum motor and prolonging the life of the machine.
With a functional design similar to conventional upright vacuums, this machine requires limited training and is simple to use.
A 1,7 rpm brush speed and brush pressure ten times higher than manual cleaning efforts ensures the best cleaning results.
The industry leading suction unit results in perfectly dry floors in both directions; cleaned areas can be used immediately and safety is improved by reducing the risk of slip-fall accidents.
The auto scrubber is easy to store and will fit in small spaces; the comfortable handle and lightweight design makes it easy to lift, transport or move in any direction.