10 Ways to Improve Building Sustainability
It's Earth Month, and that means you should sweat the small stuff. Every little change makes a difference. Here are ten building and janitorial supply ideas to improve environmental sustainability at your facility—
1. SHOP RECYCLED: We offer a variety of products with recycled content (paper, cotton, plastic). Just take a look at the manufacturer product descriptions! A great place to start is with tissue, towels, napkins, wipers, and mops. Once you put your mind to it, you'll find that there are even floor pads, receptacles, and food service and packaging supplies with recycled content. Bonus: look out for Green Seal™, ECOLOGO®, Sustainable Forestry Initiative®, BPI®, USDA Biobased, or FSC® certifications. Paying it forward has its perks. Opting for natural paper can be cost-effective. Some items can even help you earn LEED® credits.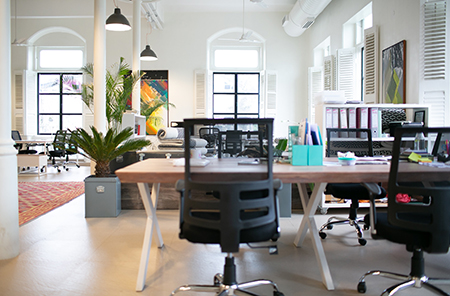 2. AUTOMATE FIXTURES: Updating your sinks to automated touch-free faucets actually helps to conserve water (and reduce germ spread). The Rubbermaid AutoFaucet® delivers water only when needed, resulting in water savings of up to 70%.
3. TRY CORELESS TOILET PAPER: Do you know how many cardboard rolls are within each case of toilet paper you order? Now, think about how many cases you order per year. With a snap of our fingers, we can eliminate those cardboard cores by switching to a coreless bath tissue option. Eliminate this extra waste and save on custodial staff clean-up time.
4. THINK ABOUT SUSTAINABLE PACKAGING: Janitorial supply manufacturers are taking even more steps to reduce packaging waste surrounding the janitorial products you purchase. Instead of individually wrapping each toilet paper roll and putting them in a box, a single plastic bundle can surround all of the rolls, cutting down on paper packaging use. Kimberly-Clark Professional, Georgia-Pacific, and Tork offer products with reduced packaging.
5. HELP REDUCE EMISSIONS: Some manufacturers even pack smarter by compressing hand towels to save on delivery truck space (check out the Tork PeakServe). More truck space for product means less delivery trips (greenhouse gas emissions). Compressed and compact packaging takes up less space in your facility too!
6. UPGRADE DISPENSERS: Dispensers that utilize one-at-a-time dispensing (like some hand towel, napkin, and cutlery dispensers) show that building occupants are less likely to take excessive amounts of product. That's a great way to reduce waste buildup, conserve resources, and help your bottom line. It's also a win for hygiene.
7. CLEAN GREENER: There are a number of green-focused cleaning and disinfecting products which have USDA Certified Biobased, EPA Safer Choice, or Design for the Environment (DfE) certifications. Think about taking a step to use products that reduce environmental impact. You can search for Safer Choice Products with the EPA: Click Here. When it comes to floor stripping, in some cases you can actually implement chemical-free stripping (water-only or dry cleaning). Ask us about orbital scrubbing!
8. CONSIDER ALTERNATIVE RESOURCES: Beyond recycled paper, did you know that some manufacturers are sourcing from different plants and materials to create products? Bamboo, wheat straw, and eucalyptus and acacia trees are some of the other resources utilized. Consider products made with rapidly renewable resources (explore Solaris Paper) and tree-free fibers. Dixie® produces 100% Bamboo Cutlery.
9. CHOOSE EFFICIENCT PRODUCTS: Rubbermaid offers battery-free LumeCel™ dipensers for soap, hand sanitizer, and aerosol air care that capture energy from any indoor or natural light source to power a rechargeable energy cell. Fresh Products offers light-activated, fan-powered air fresheners to conserve on usage while spaces are dark. AeraMax Pro air purifiers monitor contaminants, room occupancy and noise level to increase airflow rate as people enter the space, and shift to standby mode as people leave. This allows you to conserve energy and extend filter life.
10. ORDER EFFICIENTLY: Reducing the number of shipments you receive each month benefits our planet too. Minimizing delivery days will lower emissions. There are also chemicals and tools that can serve more than one purpose. Ask your Sales Representative about multi-use tools and multi-purpose products that conserve resources (and save you money). Proper liner use is another great example of reducing waste. Office or classroom wastebasket liners can be changed only on an as-needed basis— when messy liquids and odors have rendered them kaput.
Each small step for sustainable building improvement is significant; you will be an active member of the collective fabric of entities improving conservation efforts. Not only is that a good feeling, but a great way to achieve green status. Contact us today to make a change: (800) 442-0213 | Click Here to Contact Us.