Cold and Flu and Back to School, Germs Happen
It's the first week of January, and our lovable little ones are heading back to school. Given the typical corresponding uptick in Cold and Flu that accompanies back to school (and work too!), we thought we'd #TBT this blog from last January.
No passing the holiday treats this week. Instead they will share with their schoolmates less than pleasant little critters… aka germs. We can never prevent all contagious disease spreading, but we can do our best to promote healthy schools!
DATA Doesn't Lie
Did you know that less than 50% of US children have received the flu vaccine in the last 12 months? Further, according to s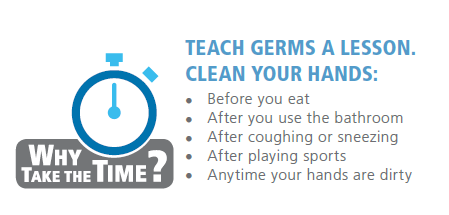 tudies cited by Gojo, only 53% of students wash their hands after using the restroom, and only 18% of those actually use soap! Staphylococcus Aureus, Rhinovirus, Influenza, and more migrate quickly around classrooms and common areas in educational facilities that have not prepared healthy schools. While current Flu levels are considered normal, the CDC does expect it to elevate over the next few weeks. (For data geeks, you can actually track FLU levels through the nation via the FLUView dashboard.
Reinforce Hand Washing with Educational Materials
Education can make a significant impact when it comes to helping little ones wash their hands more often. We can tell them over and over where and when to wash or sanitize, yet it seems to just not sink in. They need our help in consistent verbal and visual reminders.
Educational materials help, and activities that involve them can really help it sink in. This interactive activity really seemed to make an impact with these 1st Graders! Check out the Cootie Catchers video here to see how quickly germs can grow and the… umm, interesting… things discovered on the little one's hands. Super cute pronunciations of some not so cute viruses!
What are you doing to reduce illness and absenteeism and have healthy schools for your students? Start with proper placement of soaps and sanitizers. Pair that with educational reminder posters and age appropriate dispensers, and you can make an impact. Statistics from Gojo literature show that illnesses account for 144 MILLION lost school days per year. A comprehensive Nichols/Gojo Hand Hygiene Program can cut Student Absenteeism by 51%! Let Us Help! Ask your Nichols representative for further information on Gojo and Purell products and educational signage for your school.