Winter Break Cleaning
As we inch closer to the winter season, students and teachers alike are giddy with excitement thinking about the time they'll spend away from school. Though this sentiment is not shared by everyone, there is a very prominent group of people who are in charge of keeping the building up to standard. Without the janitorial staff putting in the extra hours around the holidays, our schools would be a germ-infested nightmare. Here at Nichols, we know there's more to your job than disinfecting, so we wanted to help out and put together a list of cleaning projects to tackle when you have more time on your hands.
With the kids out of the building, think about what tasks you're able to complete without the interruptions from changing classes. Floorcare should be a main priority; to clean, strip, shine, and protect your floors from the inevitable salt stains and sneaker scuffs. This is also a great period to invest the time into your equipment, especially if you're working with larger products like auto scrubbers. Make sure they're well maintained and ready to be put to work once class is back in session.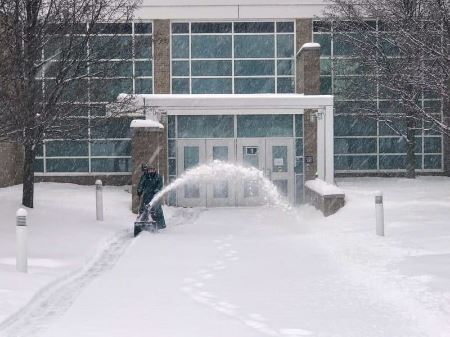 Now that floors are on the mind, what other areas of your school are high-traffic, and do they need any additional care? Adding extra trash cans or sanitizer stands in places where students and faculty frequently are can make a real difference in convenience. Also consider reevaluating the cleaning practices and procedures that you have in place right now. Can any be revamped to improve overall hygiene or labor? Are some jobs too difficult to fall on one person? Consider your building as a whole as well as the individual custodial staff when making your decisions, what's good for everyone?
One spot that can be overlooked when cleaning schools? The kitchen! While keeping the cafeteria clean for mealtimes is important, don't forget to pay close attention to the place where the food is prepared. Paper towels and dispensers, soaps, can liners – keep the food prep areas up to commercial standards for those who rely on the meals provided.
Outdoor areas tend to be neglected when all the focus is put on keeping the interior of the building clean for its guests, don't forget to keep the exterior looking presentable as well! Making sure all litter and waste has made it into the bins, walkways are kept clear either through sweeping, washing, or shoveling, as well as keeping windows and doors streak-free are all ways to maintain the outside of your facility. When everyone is able to return to a school they feel safe and healthy in, you'll know it's a job well done. And before you know it, it'll be time for spring cleaning again!